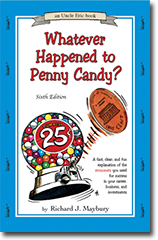 Whatever Happened To Penny Candy?
By Richard J. Maybury
This small book about economics is a remarkably easy and fun explanation of investment cycles, velocity, business cycles, recessions, inflation, money demand and more. This updated and expanded edition contains "Beyond the Basics." This supplements the fundamental ideas in the book and is included for readers who choose to tackle more challenging concepts. Recommended by former Congressman Ron Paul and former US Treasury Secretary William Simon. Fascinating and revealing, facts you can't be without, essential for every investor. 168 pages, $14.95.